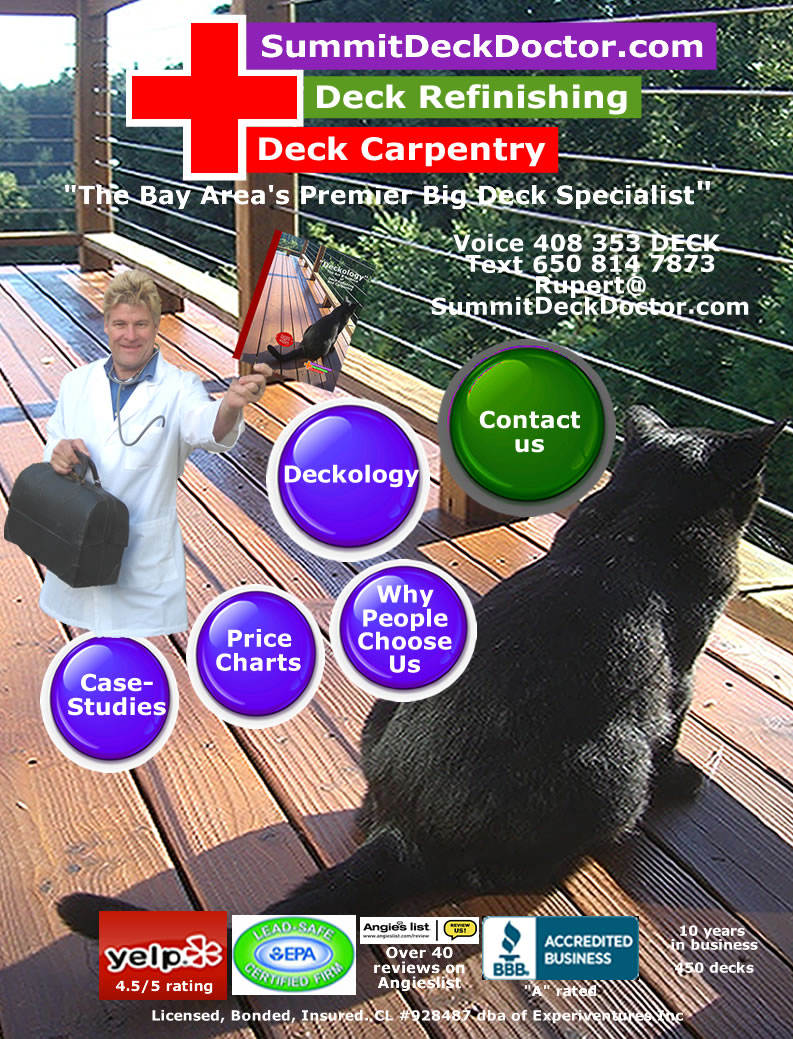 Welcome to Summit Deck Doctor! We are the Bay Area's Premier Big Deck Specialist. Whatever your deck needs, we can usually help: whether it is a deck clean, deck seal, deck stain or a deck finish; or deck repair, deck board replacement, deck build or rebuild - we can do it all!
If you can, it would be very helpful to estimate the size of your project. A quick way is to pace it out. When you call, we will schedule a time to meet with you and write you up a quote on the spot; no waiting for a mailed quote - another industry first!
We have been in business over 10 years and have worked on over 450 decks. We are a Super Service Award winner on AngiesList (2011 and 2012), we are highly rated on Yelp.com, we are recommended by the San Carlos Mothers Group and L'Avenitas Seniors Organization. Our 90 page book "Deckology" is available on Amazon.com and is downloadable as a pdf ( click on "Deckology button). We are A-rated by the Better Business Bureau. We are licensed, bonded and insured. We welcome your call!
You can contact us in three ways: phone at 408 353 DECK, or email at Rupert@SummitDeckDoctor.com. Best time to call is 4pm to 7pm, which is when we will return your voicemails, also.
Site Map:
Read this before you call. Price Charts . Why People Choose Us. Case-Studies. Deckology. Contact Us. Deck Repairs. Deck Carpentry. Deck Finishing. Youtube Videos. Yelp Reviews. Customer Testimonials. Deck Blog